National Housing Report: What the Numbers Mean for You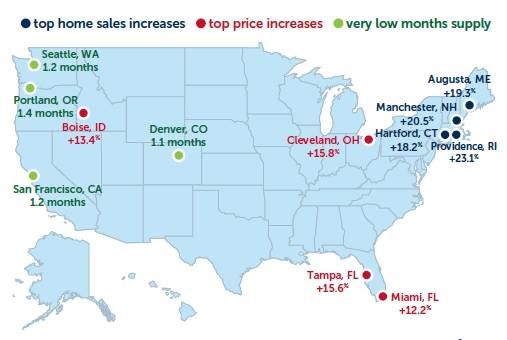 Home Sales Gain Momentum Heading Into Spring!
Although home price increases appear to be declining, the market can still feel crazy in metro areas with high demand. However, many metro areas are seeing double digit increases in median price over last year, including Cleveland, Tampa, Boise, Miami, Orlando and Nashville. And metro areas like Denver, San Francisco, Seattle and Portland continue to have a low-supply of homes available for sale.
What it means for buyers: Home prices seem to be moderating overall with declines in month-over-month Median Sales Price increases seen in six of the last 12 months. A more balanced market could mean less frenzy in the process of buying a home, but working with an experienced agent will give you a much easier time navigating the unique conditions of your local market.
What it means for sellers: The average number of home sales was 4.8% higher in February than one year ago, which could mean more potential buyers are out there for your home. The Median Sales Price of all homes sold in February was also up 5.9% year over year, reaching $198,000. What is your home currently worth in today's market? Consult with an agent to explore the possibility of selling for a profit.